Podcasts, pavements and poached chicken: A day in the life of Jeremy Rosens
Ever wondered what life is like as a real estate agent? Wanted to go behind the scenes and be a fly on the wall as their day unfolds? Now, you can.
From sunrise to sundown (and beyond), Jeremy Rosens walks us through 16 hours in his footsteps. How does the Director of our St Kilda office stay fit? Where does he eat? What does he listen to – and what's his greatest unfulfilled goal?
He's waking up… so you're about to find out!
Monday. 6:08am
I like to live life in a rhythm.
So when I wake up – anytime between 5am and 6:20am – it's never to the shrill sound of an alarm clock. There's no battling the snooze button for an extra minute of slumber.
When I'm up, I'm up.
Like today. My eyes open, then I'm straight on my phone (bad habit, I know) for the morning trio: emails, social media and news.
With my mind engaged, it's time to get the body on board. On a good morning, I'll knock out a 5km run around my local area before the day gets going.
Today, it's a good morning.
6:26am
I hear the shower running – my wife Michy starting the day. Like me, she lives in a rhythm (a similar rhythm, in fact!).
After Michy wakes the kids – Ryder, 15, and Indigo, 12 – she's downstairs to begin her morning routine.
It's time to start my own.
6:45am
Three deep breaths and my feet hit the floor.
In darkness, I put on my Apple Watch and propel myself forward. I pull my T-shirt on, then don shorts, socks and a pair of running shoes.
Time to wake the kids up a second time…

6:58am
Running gear on, I guzzle down a quick vanilla flavoured Nespresso. Then, I'm into dawn's freezing darkness to pound the pavement. Up Bambra Road, then down Glen Huntly – before a snaking sojourn back through the suburb's secluded side streets.
The dawn's early light and the dulcet musings of the Dyl & Friends podcast are fine company. (I listen only to podcasts when I run.)
Whether it's the inspiring stories of The Imperfects, gruelling true crime, or The Howie Games – intelligent interviews with elite sporting personalities – there's always something to learn.
The fact that it also takes my mind off how much further I have to run? That's just a bonus.
7:37am
Breathing heavily, I slowly peel off the layers I ran in. Armed with a bottle of electrolyte-infused water, I grab a seat at the kitchen counter, enveloped in (almost organised) chaos.
Indigo's wolfing down a Vegemite bagel, Ryder an egg-white omelette. Michy's already made the kids lunch and has one eye on dinner prep.
Meanwhile, our five-year-old Labrador Pepsi looks on longingly. Hoping – praying – we'll turn away from the benchtop, so she can jump up and nab some food scraps.
She's named after the drink, yes: being brown and fizzy and all. Plus, "Coke" wasn't a feasible option.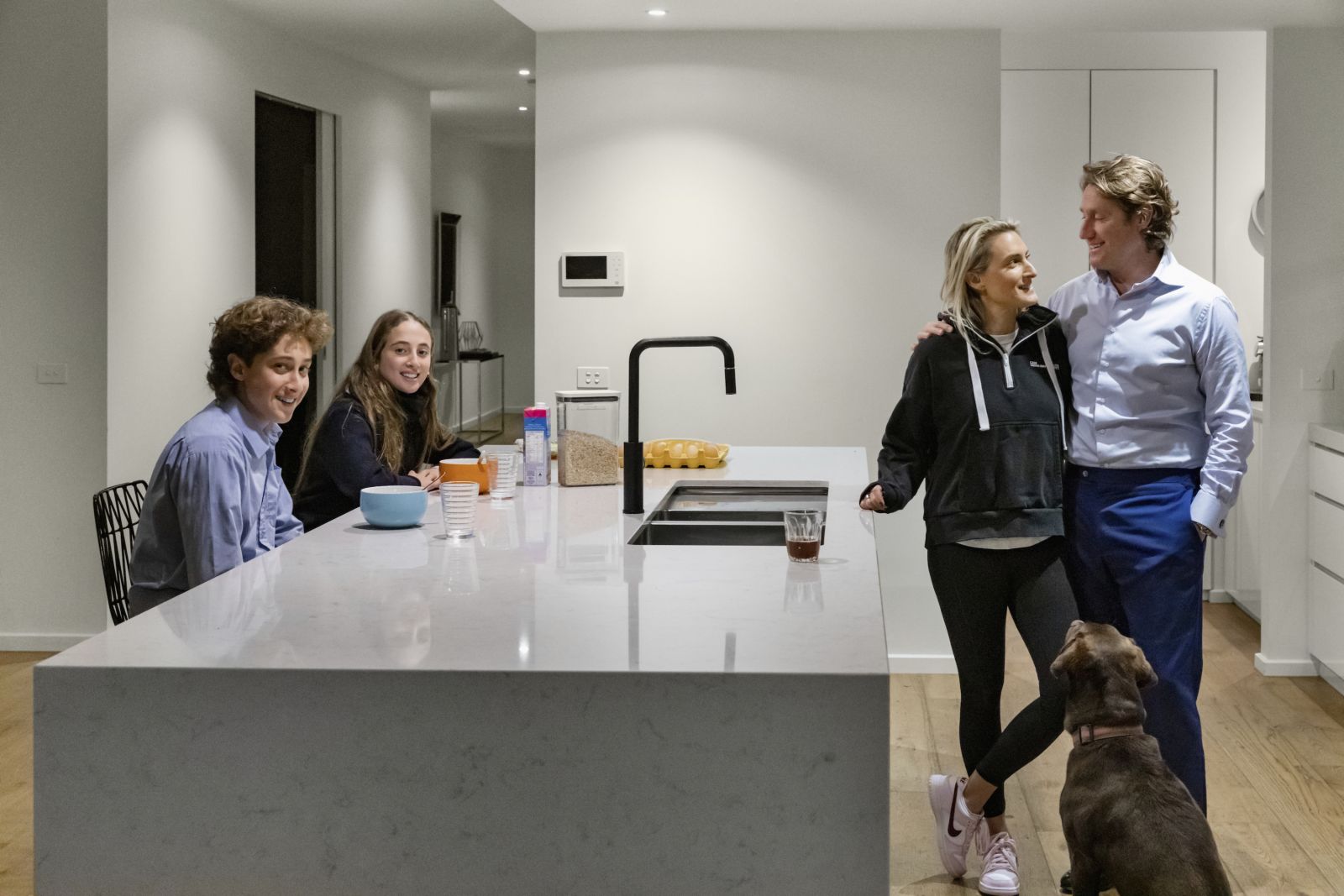 7:47am
Kissing the kid's goodbye, it's time to think about breakfast.
Will it be two eggs, or oats warmed up in the microwave? Today is busy – so eggs it is.
Having now cooled down after my run, I sit there in my Oodie. Browsing the papers, checking my schedule, and mentally preparing for the day ahead.
Flicking through the pages, I contemplate current events; life; but mainly today's outfit.
8:02am
The day awaits, as does a shower and a clean shave.
Crisp shirt, cufflinks, a straight-shooting tie (you won't see me donning anything novelty), and socks that match the pants – not the shoes.
It's all about getting those small details right.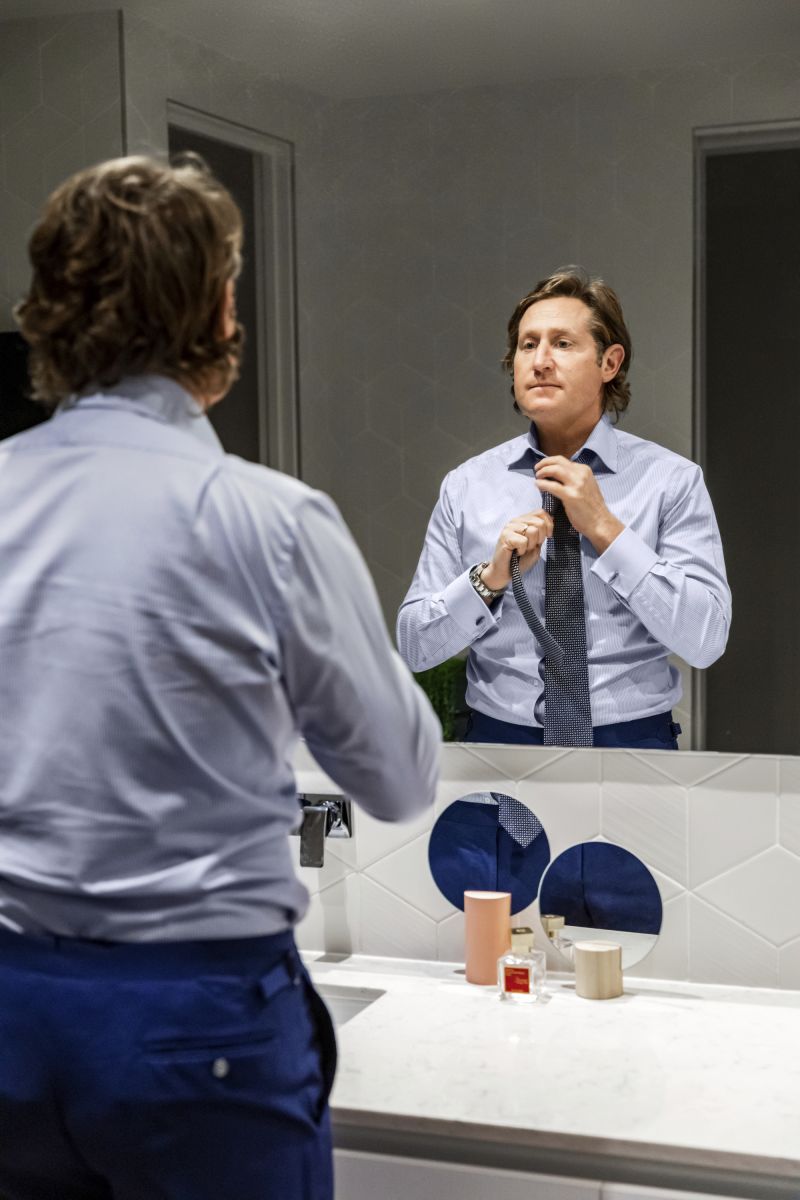 8:38am
In the car, I update my voicemail message with today's date (details – don't forget the details!).
Starting the engine, I cast my mind back to the weekend's AFL results.
If Carlton won, a smile hits my face – I can listen to any footy channel I like. If we've lost, there's a heavy weight on my mind (if you know, you know!), which means no footy media for me.
In that case, cue the music! Something on trend – with a beat.
9:07am
Strolling through the doors of our Balaclava Rd office for a meeting with the whole sales team. It's a 9:15am start, so I order my peppermint tea and take my seat.
10:21am
Back in the car. Armed with a full brief on the week that was – and excited for the one to come.
I start the motor, and – juggling phone calls and the 17 emails I've received during the meeting – make my way to the St Kilda office.
10:31am
Savouring a short black vanilla espresso, accompanied by a crunchy apple (strictly Jazz).
10:42am
St Kilda team meeting. Talking agenda items, auction reviews and opens. Preparing weekend inspection times; planning our week ahead.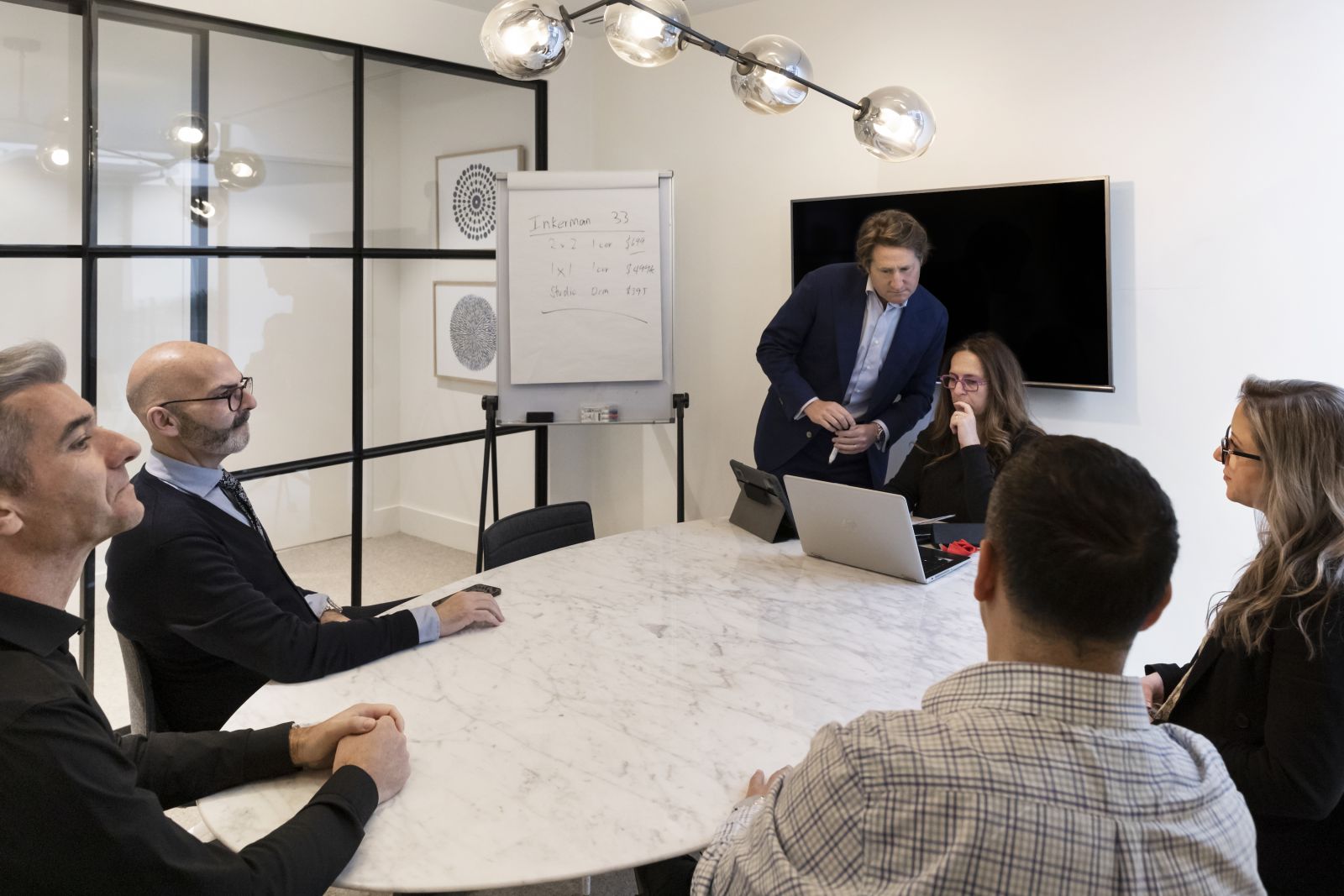 12:14pm
Office door closed and into the day's long list of calls. Potential sellers, prospective buyers, and assorted people I met on the weekend – I'll chat to them all. More meetings await!
1:03pm
Lunch – which, on this day, involves a quick drive up the road to Saigon Street Eats on Carlisle.
A vivid variety of Vietnamese stretches out before me, but – as always – I know what I'm having. Three poached chicken rice paper rolls, slathered in a healthy helping of hoisin.
On other days, I'll indulge in a large poached chicken phở.
Rice paper rolls in hand, it's time for me to roll – because the afternoon's shaping up to be a busy one.
1:07pm
In the car, throwing my jacket on the back of the seat, looking at my phone.
Answering the phone.
Talking on the phone, coordinating a buyer inspection with another agent and the vendors.
Moving deals along. On my way to meet some potential clients for the third time. Hopefully by the end of the meeting they're new clients – not just potential ones!
2:27pm
Back at the office, I hand Amanda (Campaign Coordinator) the file for a just-listed property. We spend some time talking timelines.
Then, I'm into my office to make another dent in the 200-strong emails that come across my desk daily.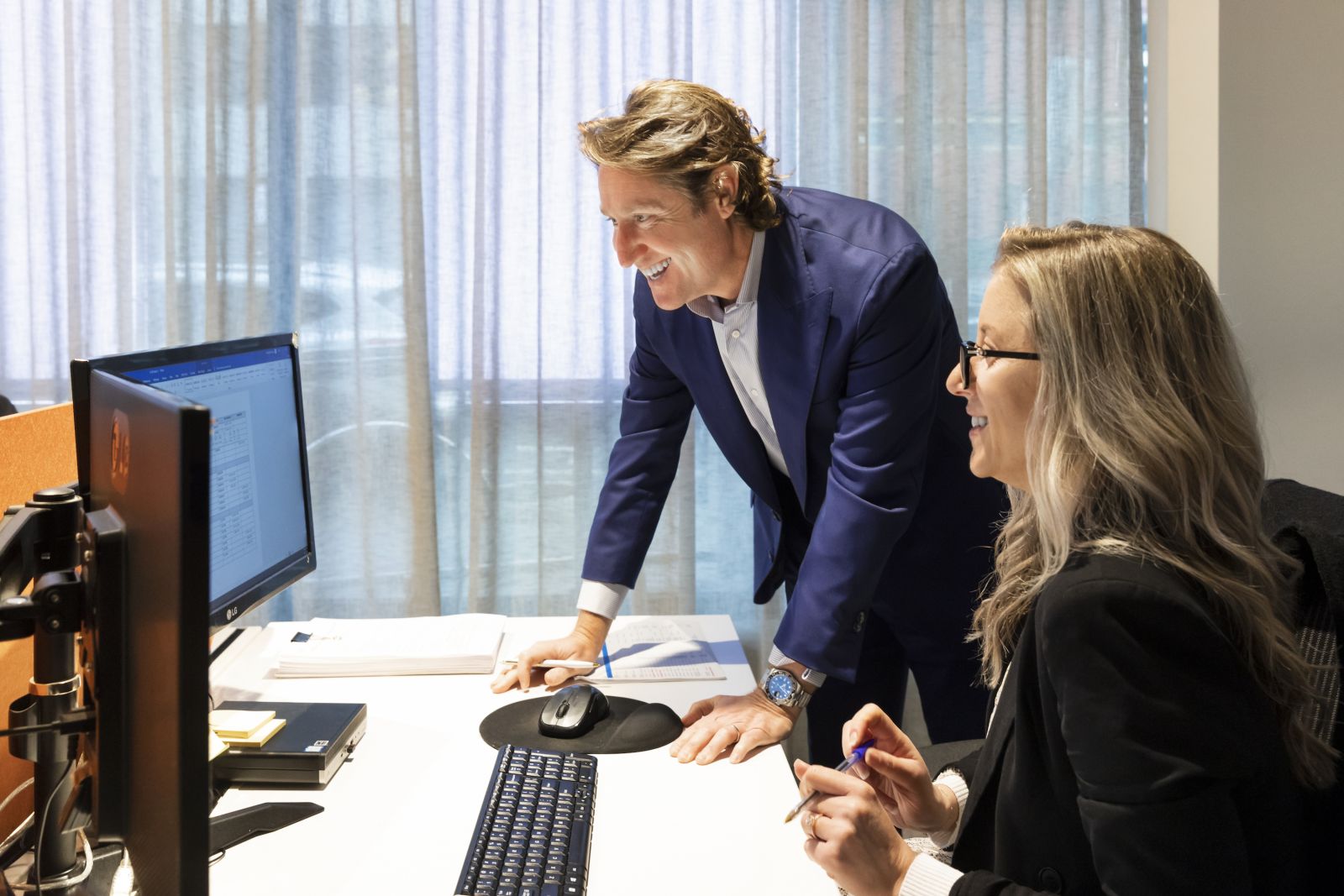 2:48pm
One word about Gary Peer & Associates' St. Kilda office: it's open plan.
One word about my own office?
It has glass walls.
That means, unless the door's closed, it's open slather – with people popping in and out all day, asking questions.
Today, the door is open.
2:49pm
Daniel Micmacher (a Sales Consultant I've been working with for over a decade) pops in with a question. Like dominoes falling, this leads to a longer conversation. And, ultimately, a round of phone calls to several people.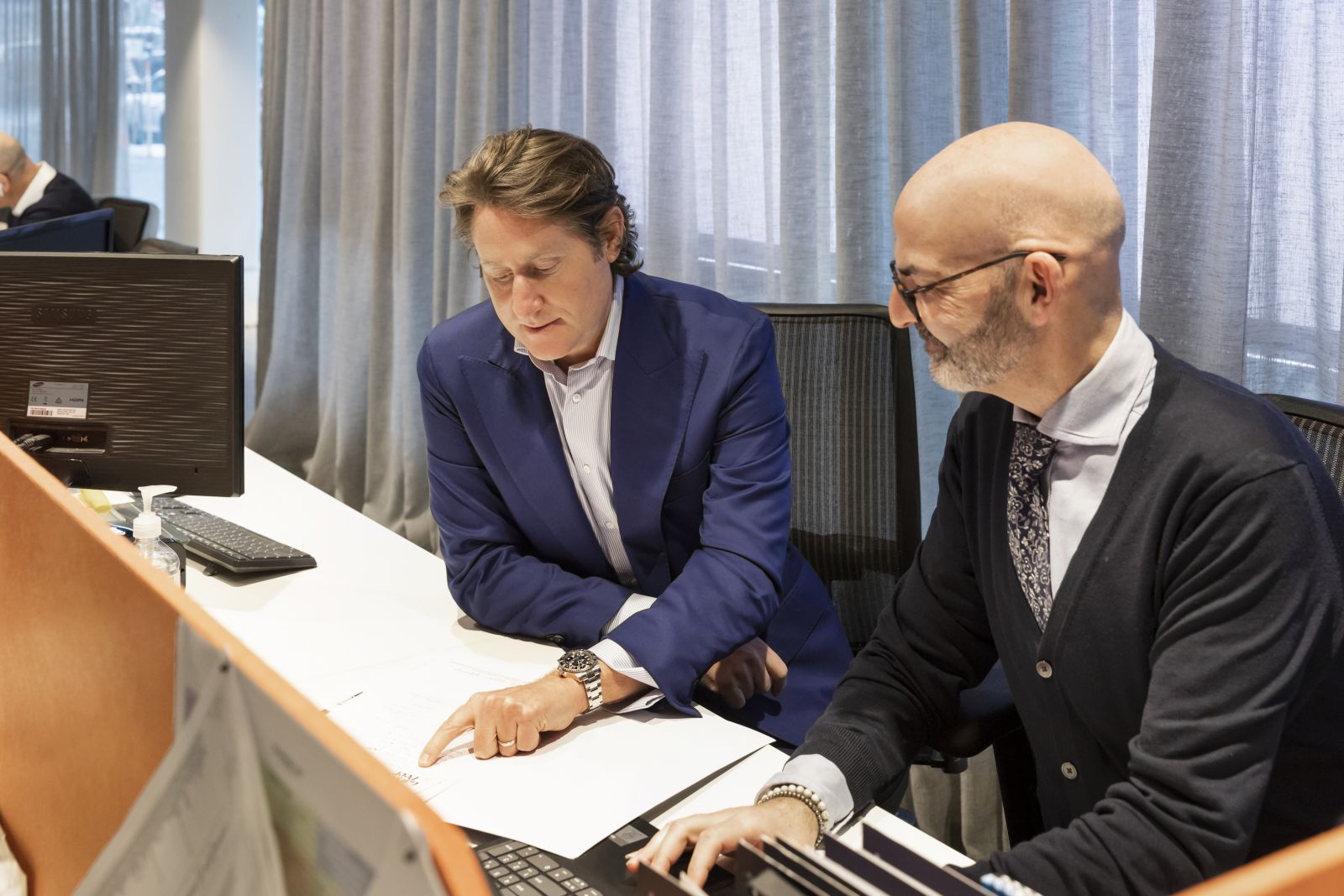 3:43pm
Driving. Arriving. Looking at my phone, answering a call. Picking my jacket up off the back of the seat.
Jumping out of the car. Jumping back in the car. Business as usual!
5:17pm
Back in the office. The office is warm – in fact, it's buzzing.
The tapping of keyboards and bray of voices fill the room. The place is a hub of activity.
Someone's on their mobile by the couch area. Someone's in the meeting room with a client.
This is real estate's 'witching hour'. It's like an orchestra, but the melodies are phones ringing, voices competing for attention; a cacophony of real estate speak.
For me, it's electric – like being plugged into the mains. It gives me that burst of energy I need for the home stretch.
| | |
| --- | --- |
| | |
| | |
| | |
5:42pm
I grab the three lists Amanda's prepared on my desk. I put my AirPods in, and start dialling, talking, dialling again, talking more, making notes, updating our database.
6:41pm
Meeting Daniel for a brief summary of the call backs to buyers. Pushing and probing each other to understand what we need to discuss with the vendors.
7:32pm
In the elevator, on my way to the office basement.
I shrug my jacket off; bundle my briefcase into the back seat. Two pieces of chewing gum; no music.
It's a strict policy: the drive home is solely for calling people I missed throughout the day, or friends and family. If no one answers? I'll take the opportunity to practice mindfulness – and enjoy a patch of peace.
7.44pm
In the garage at home, phone pressed to my ear.
Can't go inside yet. Promised myself I wouldn't go into the house while on a call.
It's a long call.
7:52pm
I'm a homebody; a family man. I'm not out with mates on a Monday, playing basketball on a Tuesday, or indulging in beer and pub trivia on a Wednesday. I'm straight home of an evening to eat.
Tonight, it's satay chicken, rice and salad.
I love to eat with the family (when I can). I never ate dinner with my family when I was a kid – now, it's the highlight of my day.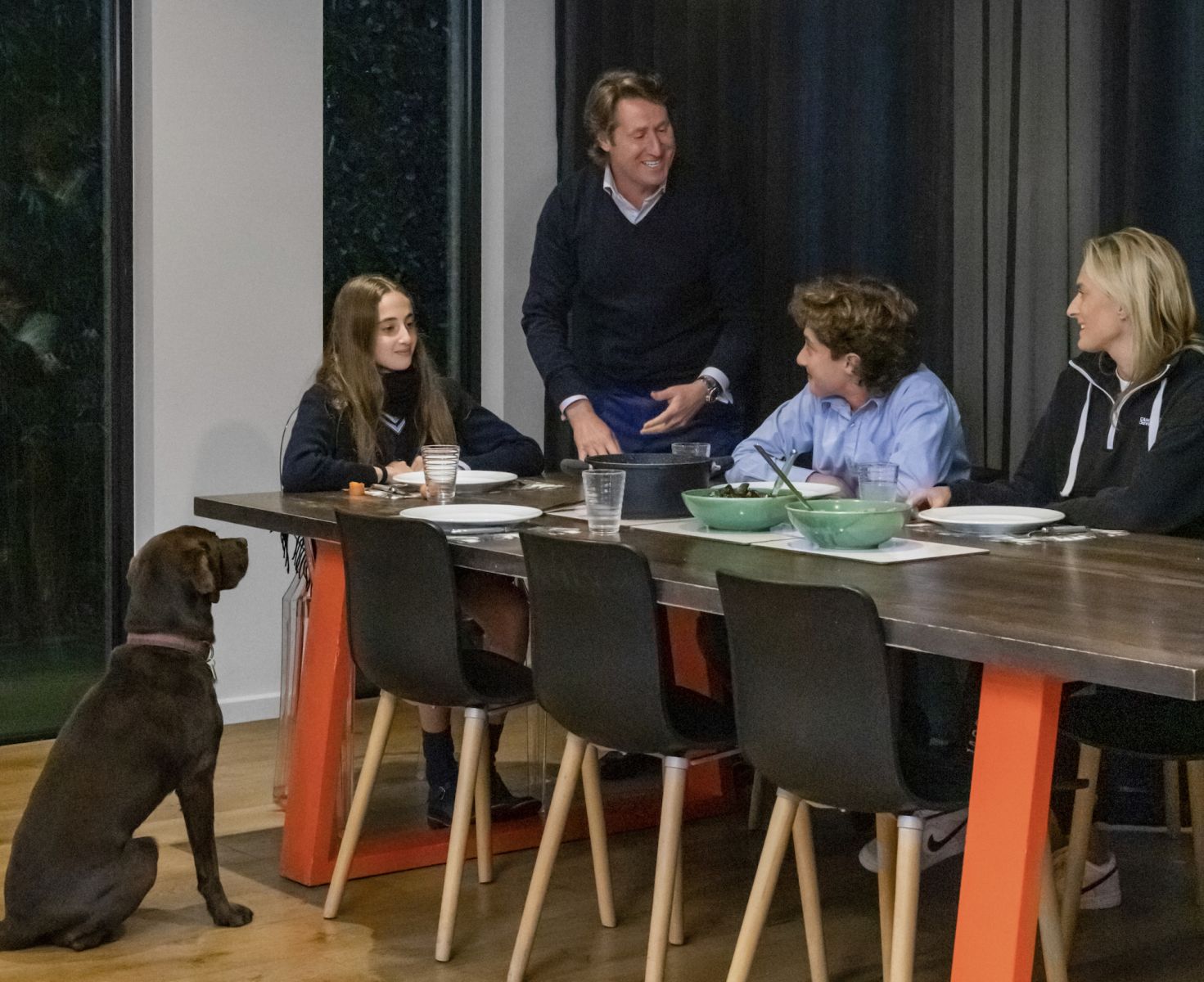 8:02pm
Chicken dispatched, it's tools down – suit off.
I love my suit, but I don't wear it around the house. A part of me has always wanted to, though.
In fact, it's a dream I often have (but rarely share). Ready?
Picture me, sitting atop a three-seater Chesterfield couch, with a roaring fire crackling away. Eating nuts. And patting my dog, while drinking a 21-year-old Macallan Scotch in a Waterford crystal glass – dressed to the nines in a suit and tie.
Tonight's not the night, though. I put my pyjamas on – and, of course, my navy blue Oodie. Now's no time for fashion – its all about comfort.
9:32pm
There's an unspoken rule in the Rosens household.
At 9:30pm every night, we shut up shop. Lights out, door locked. Pepsi taken to the garden to conclude her day's business.
As for me, I'll sit with the kids – downloading their days in one-word answers. I might even help with some homework (until I remember, of course, that they're both smarter than me. And that the maths they're up to is well above my pay grade!).
It's a simple routine, but a satisfying one.
As I said – I like to live life in a rhythm.
9:47pm
In bed, there's time for a quick episode of Billy the Kid (currently watching) with Michy.
Then, we turn in.
I might spend 10 minutes with the Kindle to lull me to sleep. Or reflect on the day.
Because as much as I like the rounds and rhythm of routine, I love that every day is different.
I find myself talking to all manner of people – be they the CEO of a massive multinational company, or a 20-something buying their first studio apartment.
That's what really drives me – relationships. The ones we form with our clients, and the close-knit, community-driven team I have the pleasure of working with every day.
Knowing there are amazing people behind me – both at home and in the office – gets me out of bed every morning. And helps me sleep well at night.
Smile on my face, I reach for the bedside lamp.
Click.