Bright, proud, functional: Mid-century architecture's enduring legacy
Have you ever wondered why homes with north-facing windows are so desirable? Or about the origin of open-plan living spaces? Both, as it turns out, can be traced to the architects of the mid-20th century.
Mid-century modern homes continue to inspire architects today – in Australia and across the world. Some, like Melbourne's own Lani Fixler, have built careers on their appreciation for the style.
We spoke to Lani for her expertise on the significance of this iconic architectural movement – and how contemporary architects like her are championing mid-century sensibilities today.
Mid-century Melbourne
In 1945, in the aftermath of World War Two, war-torn cities across the globe desperately needed to rebuild – and fast.
Efficient construction and planning were of the essence – giving rise to homes with box-like shapes, flat rooves and minimal colour.
It was the birth of mid-century modern architecture.
"Modernism focused on clean lines and simple, stripped-back forms with highly functional designs," Lani explains. "It stripped away the decorative elements you used to see in Europe, in favour of a straightforward approach to design."
That may sound like an unsentimental ethos. But for Lani, the style evokes pure nostalgia.
"My childhood memories are filled with mid-century homes," she recalls. "My grandparents and their friends were all post-war immigrants to Australia in the fifties, and they embraced the style as they were building new lives here in Melbourne."
Homes like these adorn Melbourne's inner north, as well as the southeast suburbs of Elsternwick, St Kilda East and Caulfield.
So how might a layperson identify them? According to Lani, you can spot a mid-century home by its proud display of materials.
Materials laid bare
Mid-century modern homes are known for their functionality. There's a frankness to them – which you can easily see in their façades.
"Mid-century architects embraced the materials of the times, so you'll see a lot of exposed brickwork, blockwork and timber," Lani explains.
"Their approach was very, 'This is what we're using – and we're going to show it.' You'd rarely see them cover up external materials."
This unabashed exhibition of raw resources is easy enough to spot from the outside. Cream-brick homes with wide terraces are a familiar sight to many Melburnians.
But how about the interior? Mid-century architects avoided mixing materials indoors, achieving a clean, uniform look. However, they also put tremendous thought into planning – so that simplicity and functionality informed one another.
Room for activities
'Zoning' is a term architects use to describe each room's purpose in a building. And, as Lani elaborates, it's something mid-century architects were particularly good at.
"I often revisit plans for mid-century homes, because they're just so clever," says Lani. "Architects put real thought into the zoning of these homes, with each room serving a specific function."
The mid-century style reigned – and continued to evolve – from the 1940s until the late 1960s. By then, entertainment was becoming a cultural priority – so people wanted dedicated spaces for this in their homes.
"People craved these beautiful, open spaces to entertain guests," she continues. "But they also wanted privacy for bedrooms and studies. So the homes were extremely well thought out."
Privacy continues to be an important – and obvious – component of any home. But mid-century homes didn't confuse privacy with stuffiness.
In fact, large, light-trapping windows were another hallmark of the style – speaking to its tendency to blur the line between the home and the world around it.
Let in the (northern) light
Mid-century architecture shares a couple of likenesses with brutalist architecture. Both, as Lani attests, frequently use blockwork (or, in brutalism's case, concrete). Likewise, both celebrate material – and minimise decoration.
"In that way, the two are similar," Lani explains. "But brutalism is about the structure and rawness of the materials – there's a real darkness to it."
Mid-century homes were – and are – far from dark. Literally and figuratively.
"A lot of these artists and designers were adept at capturing the northern light," Lani says. "If you look at a plan for a mid-century home, the entertaining space usually faces north.
"Many of their plans were broken up with central courtyards to draw in even more natural light. But mid-century architects really understood that the best light comes from the north."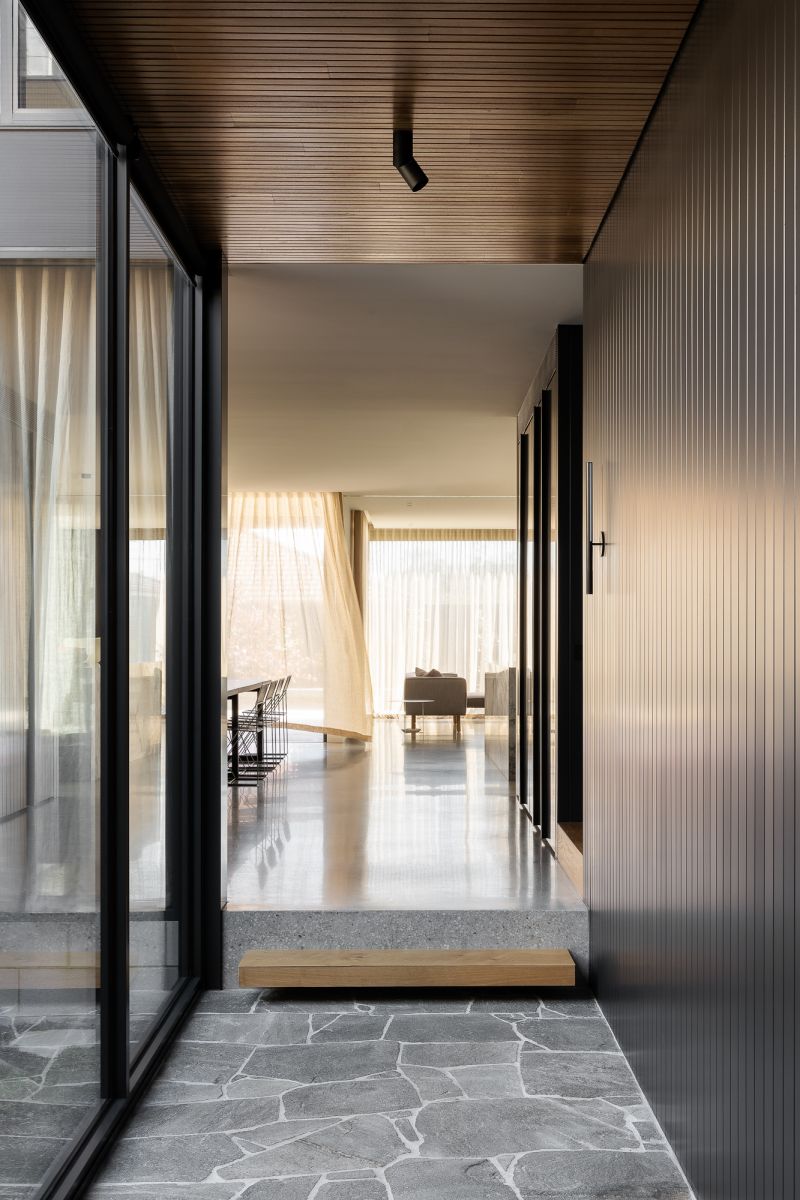 The wrecking ball
Melbourne's original mid-century homes continue to inspire architects across the city – and beyond. But sadly, many now face widespread demolition.
Why? Lani elaborates.
"Mid-century properties were designed with families in mind," she says. "But compared to today's homes, the bedrooms were quite small. Most families now want much larger rooms.
"What's more, many haven't been properly maintained. To restore them is expensive – and very few are heritage-listed.
"It's a real shame to see so many of these beautiful homes knocked down," she continues. "Though I do understand that sometimes things are beyond repair."
But although some original homes are being demolished, contemporary architects are breathing new life into mid-century modernism – with Lani among them.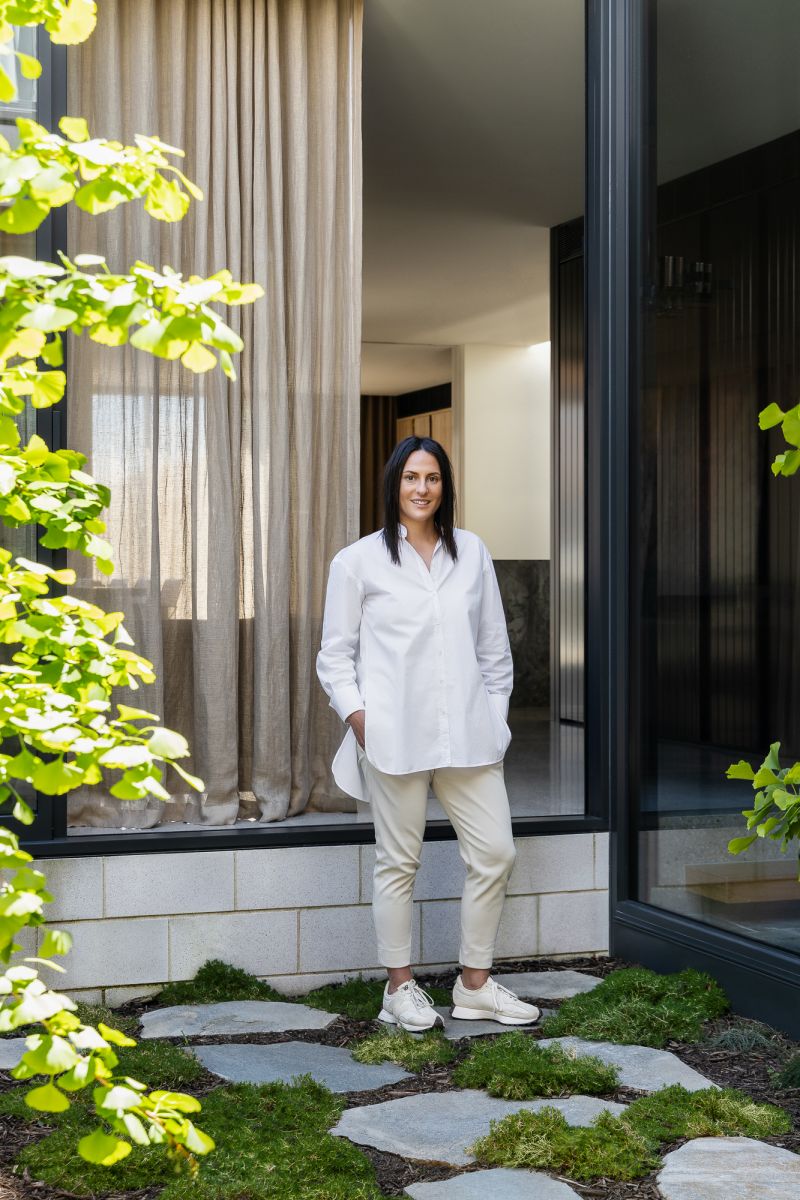 Mid-century sensibilities today
One of Lani's recent projects (her home!) perfectly showcases mid-century ideals in a contemporary form.
Seymour House sits on the border of Caulfield and Elsternwick. Lani was the architect and interior designer for the home – and its cubic shapes, exposed blockwork exterior and expansive windows speak to its owner's appreciation for modernist architecture.
"I brought in a lot of mid-century principles," Lani says, "even though it's a new build and not actually a mid-century home."
In fact, Seymour House takes connection to nature a step further, with its mossy, stone-paved pathway that winds towards a light-filled courtyard entrance.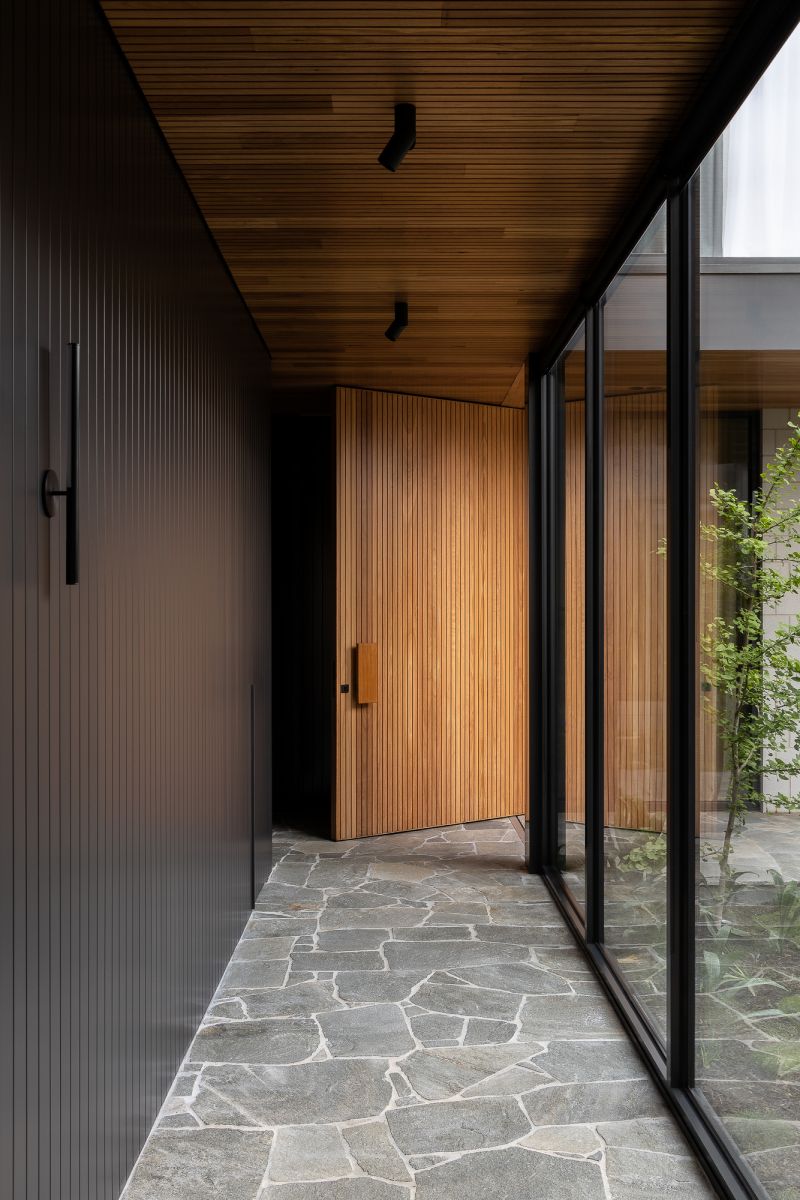 As Seymour House demonstrates, mid-century modernism continues to resonate with architects and amateur home designers alike. The style's open entertaining spaces, north-facing windows and proud displays of material have left a permanent mark on the architectural profession.
As Lani says, it's a shame to see so many of these homes go in recent years. But mid-century architecture's death knell isn't sounding just yet.
In fact, the style is only continuing to evolve as we do. And it's clear that the mid-century movement is far from finished.