Cold brews, warm hearts: The Gary Peer coffee van's past, present and future
It was 2015. Jacob Kingston – then 21, studying marketing and economics at Monash University – sat chatting with his dad, Phillip, over a coffee. The topic of conversation? How to bring yet another layer of entertainment to Gary Peer & Associates' already show-stopping auctions.
Sipping their espressos, it wasn't long before inspiration struck. When they realised that the answer was, quite literally, under their noses.
Humble beginnings: The coffee van starts its engine
"Our auctions are one of our main and most unique points of difference," says Jacob, smiling back at me through the steam coming off his mug. "It's theatre; it's game day. So my dad and I thought 'why not add an extra layer to that – and bring hospitality into it, too?'"
The concept was simple – yet sensational.
A van, with a coffee machine inside. The van would follow each weekend's auctions, serving free coffee and water. Plus lollipops for the kids.
The wheels were in motion, the cogs (and coffee machine) whirring. Time to put it into practice.
But first, Jacob and Phillip needed the coffee.
Enter Las Chicas – a café on Carlisle Street. Las Chicas provided the beans, as well as a barista to help turn them into fresh coffee.
For the rest of the crew, though? The drivers, the servers, the support, the hype people? Well – there was already a pool of readymade applicants.
Jacob rounded up an ensemble of friends – Mia, Zac and Olivia among them – to be the van's public-facing side. Away from the crowds, extra support came from an unlikely source – Jacob's mum, Irene!
"For the first four years of the coffee van's life, we kept it parked in my parents' driveway," Jacob reminisces. "We'd go and wash the dishes in their house, all of us pitching in. To this day, my mum still washes all the tea towels. Every week. We're hoping she'll never stop!"
The coffee van started out small. But it got the basics right: good people, on wheels, serving good coffee – to more good people!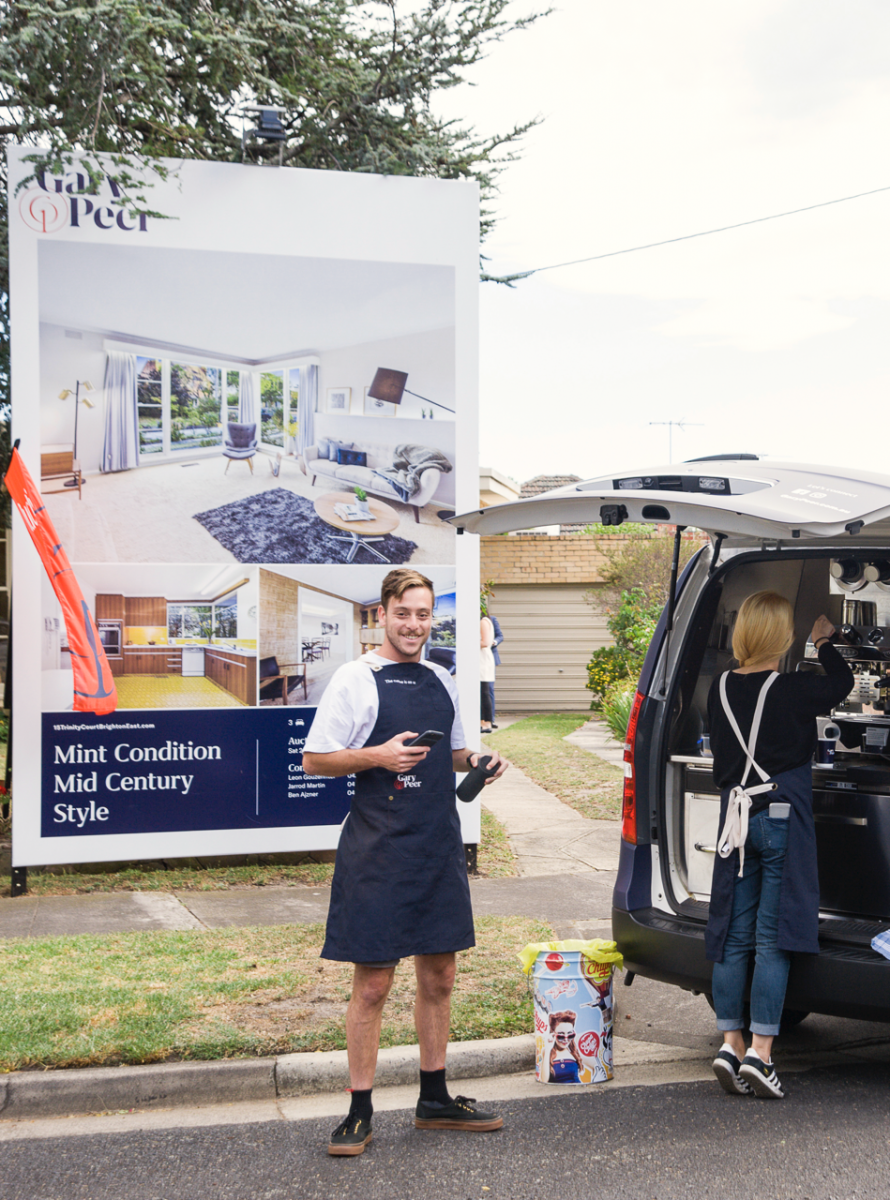 'A fun, festive atmosphere': The coffee van gathers speed
The Gary Peer coffee van took off.
Auctioneers, hopeful buyers, anxious sellers, and intrigued neighbours sipped, side by side.
The coffees came fast. The positive feedback came faster. And, with the coffee van turning up – playing music and doling out doppios – something happened. The people turned out.
"At our auctions, a lot of neighbours come watch. In the past, they've stayed standing behind their fences, or watching from the other side of the street. They kept themselves to themselves.
"But when the coffee van started rolling up, they all began strolling over for a coffee and a chat.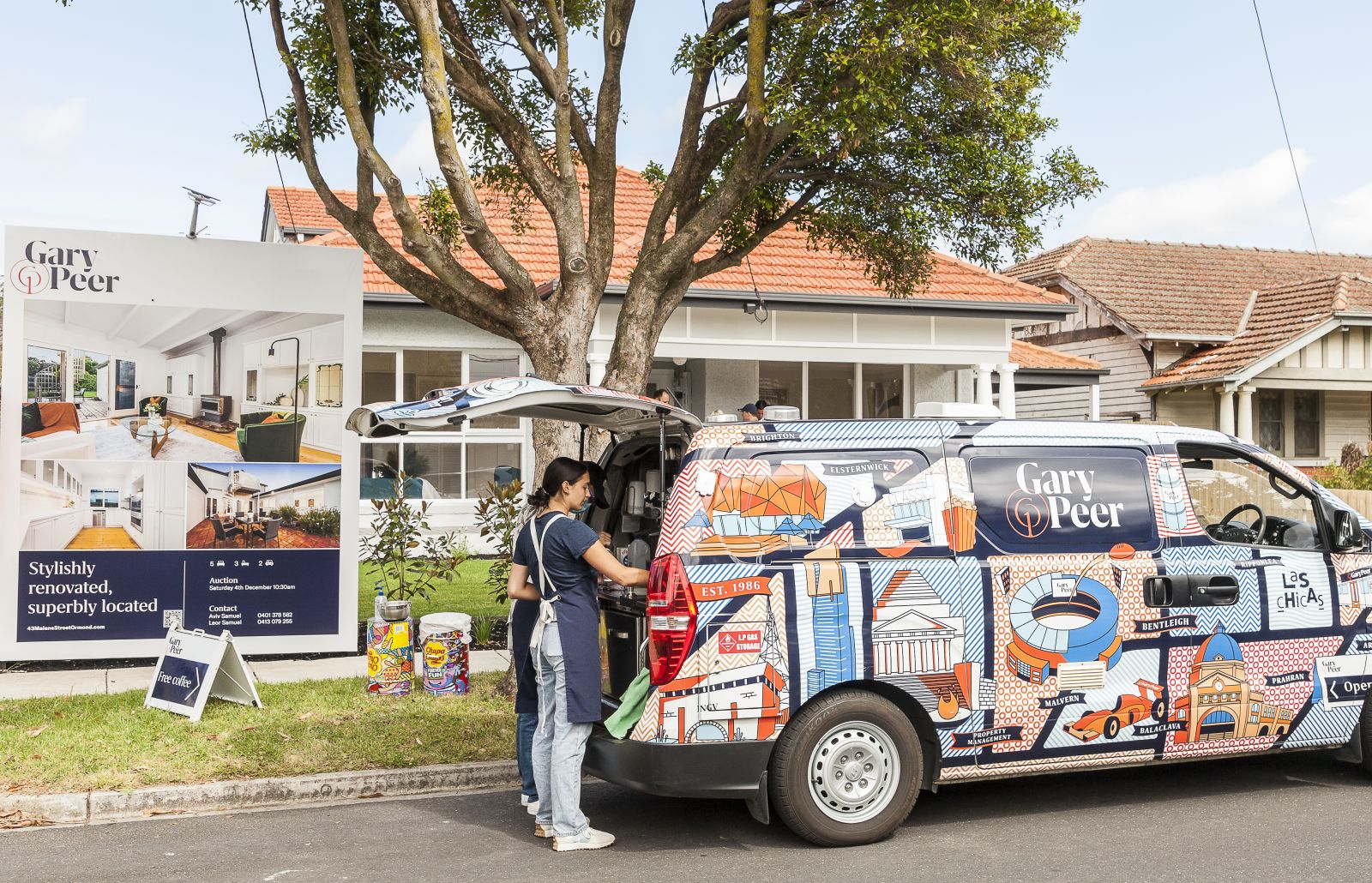 "Our auctions are already loud and energetic. The coffee van only enhances that. It feeds into that fun, festive atmosphere!"
In 2017 – to keep up with the community's unquenchable appetite for americanos – a second coffee van joined the ranks.
Together, the two vans hit up to 30 auctions across the weekend. Serving up over a thousand free coffees to the caffeine-craving communities of Caulfield and beyond.
A family business: The coffee van's familiar faces
The coffee van has seen many faces come and go during its seven years (and counting!) on the streets. But they tend to always be familiar ones.
"When the coffee van began, it was my mates and me running it," says Jacob. "Then, as we got older, we passed it down to my brother Ben, and his friends.
"It's a rite of passage, in many ways. The van crew is strictly young people; it tends to be those in that 18 to 23 age bracket. Most of them are studying. And all are from the community: be they children of our team members or clients, or living locally."
Former Head of Hospitality Mia Yanay is now on the van part-time, balancing coffee-making alongside her studies in Sustainability at Monash University. Her work on the van also led to a pathway in our Property Management team, where she spent a year.
And the connections don't stop there. Because the van's current Head of Hospitality, Rikki Krongold – also sitting across the table from me now – is Director Darren Krongold's daughter.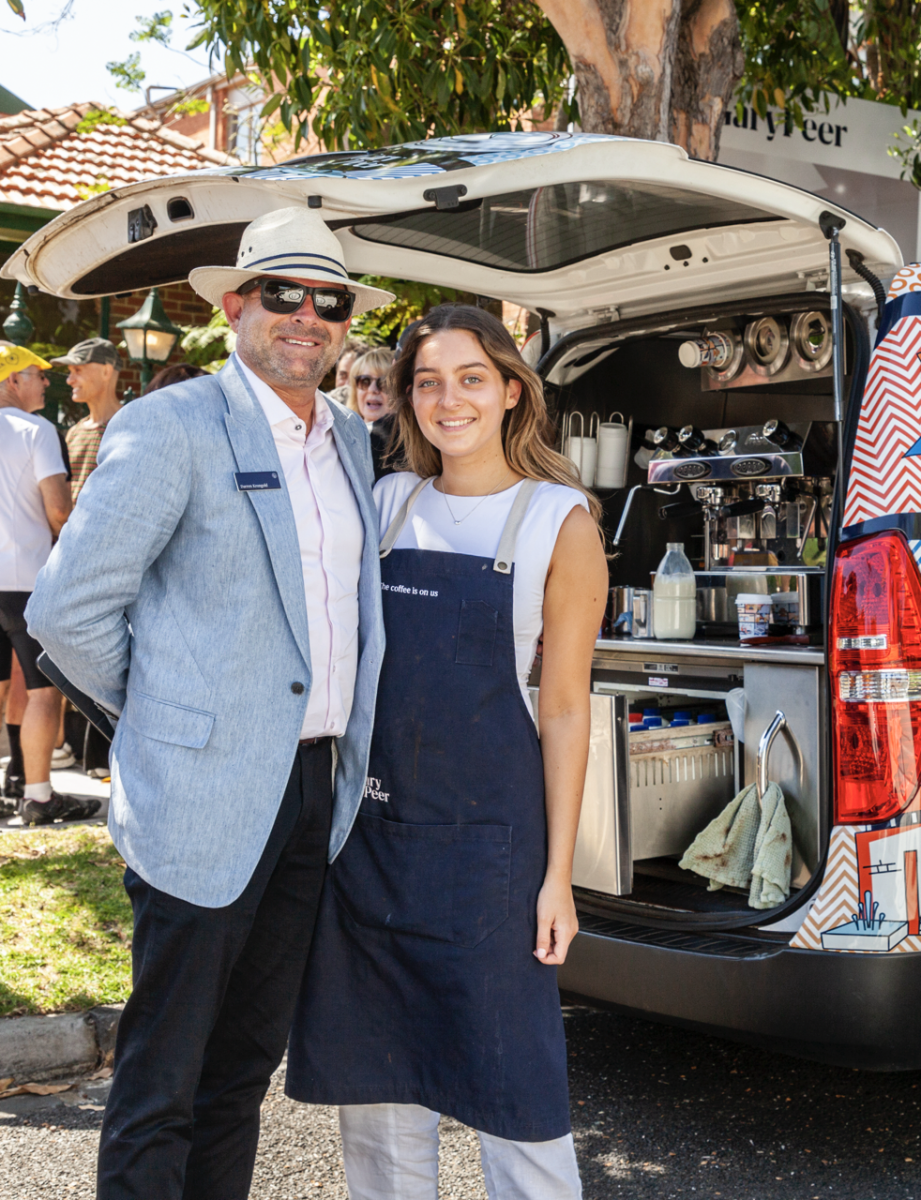 Rikki's twin sister Britney is involved too. She splits her working life between the van and her admin duties at our Caulfield office.
Because at Gary Peer, coffee-making is a family business – in every sense of the word!
So what's it like working with your loved ones?
"It gives you a sense of pride," says Rikki, sipping her ristretto. "You're building on your family's legacy, in a way. But it's also a source of pride for my dad, that my sister and I are working in the company he helped build. That we're following in his footsteps."
Jacob agrees.
"Working with my dad is fantastic – we have such a good time! He's so supportive. Together, it's been amazing to have translated an idea into a thriving (and important) part of the business."
Careers and community: The coffee van's enduring influence
Sipping my espresso with Rikki and Jacob, it's evident that the Gary Peer coffee van isn't only about the piccolos, but the people. That it's not just about the flat whites – but the springy green shoots of grassroots community involvement.
About moving the van forward. And paying it, through regular local charitable contributions, in the same direction.
Recently, the two coffee vans headed to Caulfield South Primary School to host a twilight picnic for parents and students.
"The coffee is always free," says Rikki. "No matter what. That evening, I reckon I served 800 hot chocolates – and plenty of lollipops, too!"
Through this lens, the coffee van is as much about love as it is lattes. It's cold brews served with the warmest of hearts; a healthy sprinkling of chocolate and community.
"You speak to people, get to know them," says Rikki, who is studying PR. "It's about bringing the community together and building those relationships with the public.
"I remember most people's orders. Whether it's catering for the sales team during the week or to the public on a Sunday, I can look at someone's face and give them their order – before they even make it.
"A mochaccino with three sugars? Done. A skinny flat white with an extra shot? Done!"
A weekend on the van is magnificent for the memory. But it's also an excellent way of developing a set of crucial life and career skills.
Problem-solving. Initiative-taking. Communicating.
"I was never the kind of person to go up and talk to someone I didn't know," says Rikki. "But working on the coffee van gives you self-confidence – work ethic. You learn how to talk to people, and about the real estate industry. Not to mention how to make a mean coffee!"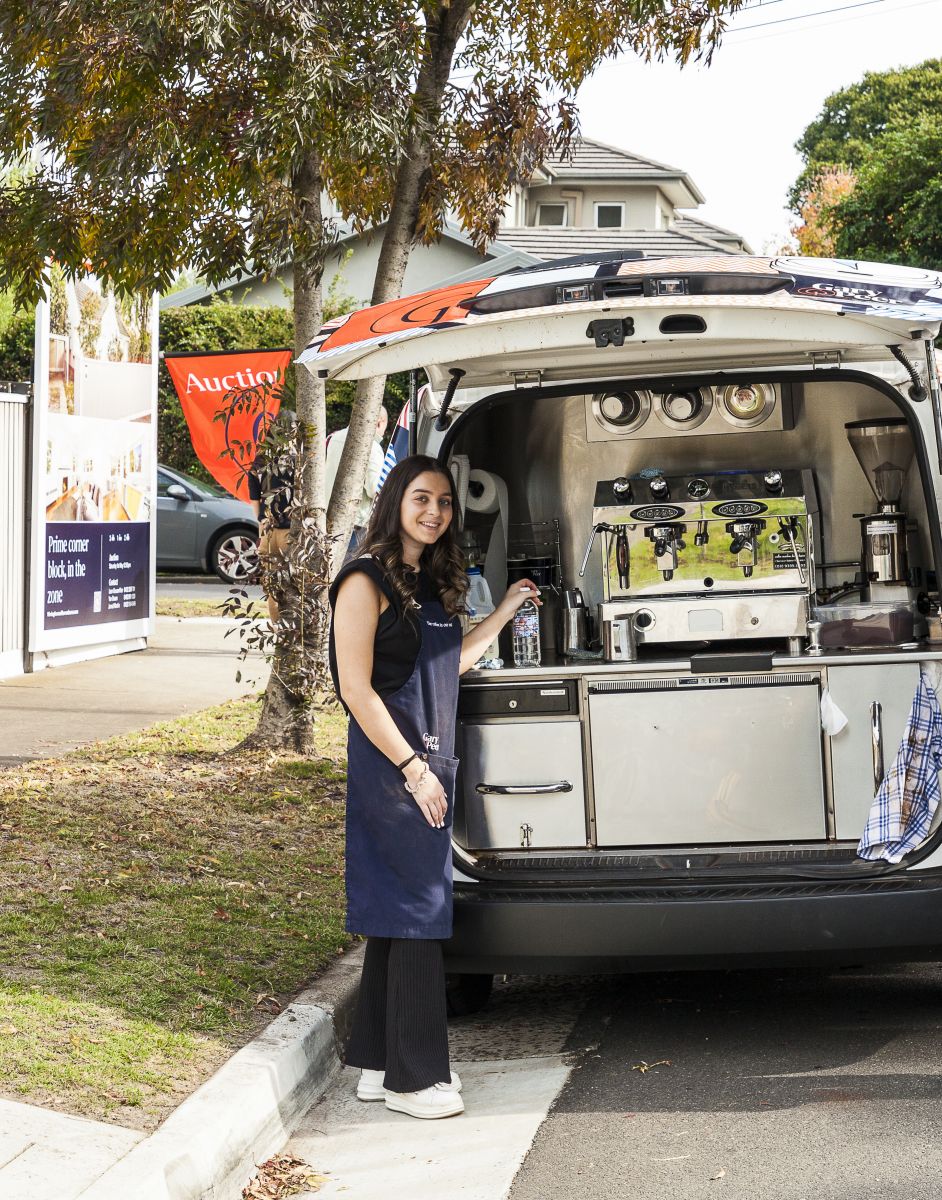 A fresh taste, look, and feel: The coffee van today
Today, the coffee van is more than a moving macchiato machine. It's a whole branch of the business, employing more than 30 staff.
"Our coffee van crew is now, essentially, a thriving inhouse hospitality company," says Jacob. "We cater to cocktail parties, to launch events, to our sales team meetings."
Once a pair of seemingly permanent fixtures on the Kingstons' driveway, the coffee vans now have a permanent home – Gary Peer's Balaclava Road-based New Projects office.
"Our New Projects office doubles as a hospitality space, with an amazing coffee machine our crew receives training on. There's a full kitchen, cleaning area, and dishwasher back there.
"It's a professional setup."
The coffee van has also had a facelift. A couple of years ago, Jacob led a rebrand and redesign. He hired local artist Benji Weinmann (a family friend and Caulfield local) to give the van a fresh lick of paint.
The result? A vibrant, exuberant depiction of southeast Melbourne's landmarks and locales. (And more than a few admiring glances!)
"Benji gets joy, seeing the coffee van around, because he lives locally," says Jacob. "We could've gone to a traditional marketing agency, but we made a conscious choice to engage someone within the community. Someone to whom it would make a difference to."
Plus, it's not only the coffee van's look that's changed over the years. But its taste, too.
Recently, Cheltenham-based supplier Ottimo Coffee stepped in as the coffee van's new partner.
The leading roastery supplies coffee beans for several of our city's best cafés (Common Room Co, one of our favourites, among them). Ottimo is also providing training for the vans' crew.
The joy of java: The coffee van's exciting future
Two vans. Eight wheels. More than 30 team members. Thousands of coffees served every weekend. And a single cause – a simple, heartfelt love of the southeast Melbourne community – driving it all.
It begs the question. What's next?
When I float the prospect of a third van, Jacob shrugs – and smiles.
"Never say never. As long as we keep growing, which we are, we'll have to add new vans to the ranks to satisfy the demand. So watch this space!"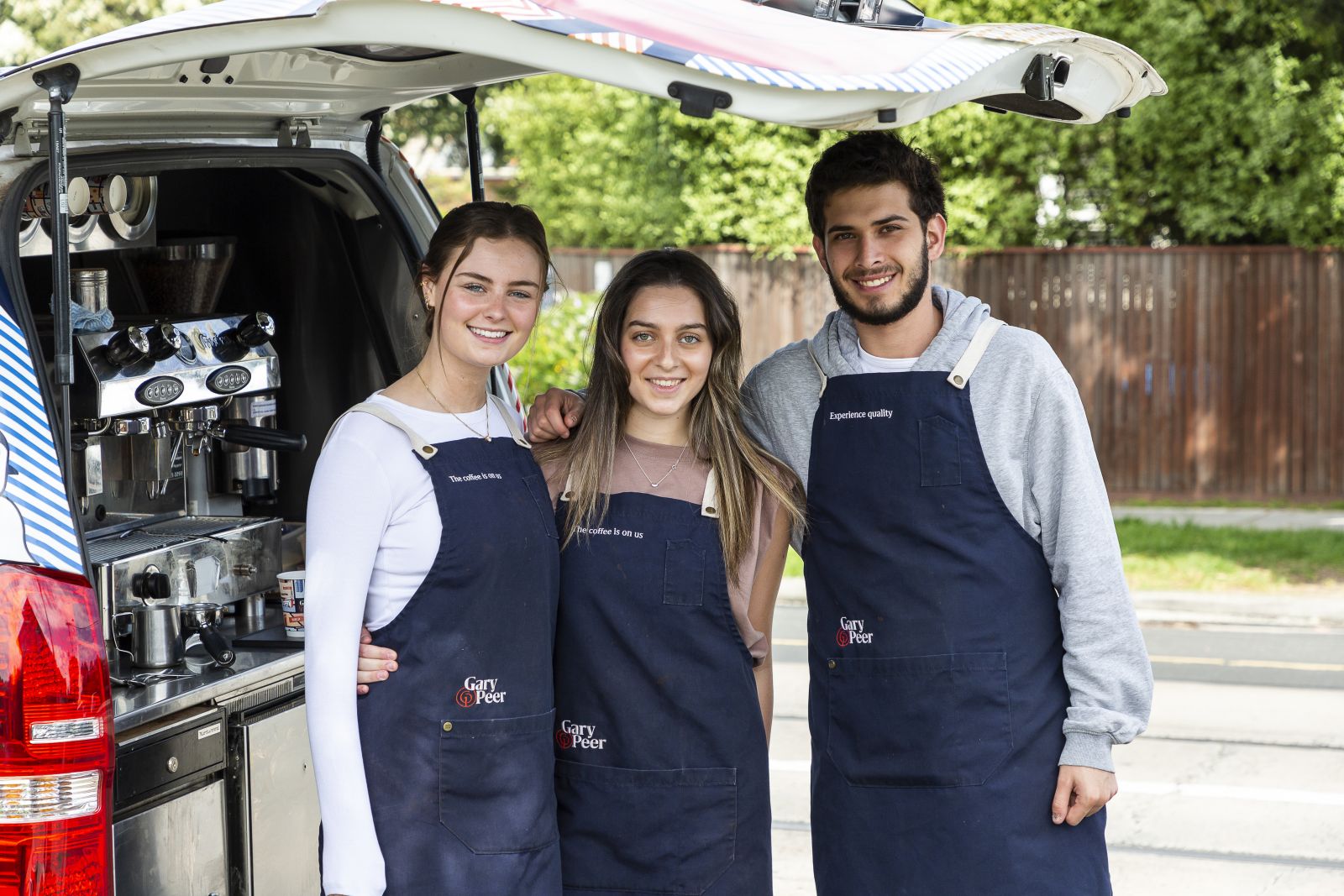 Want to learn more about what we've been up to in the community?
Explore how Phillip Kingston's been auctioneering for autism, on a special night at The Glasshouse.